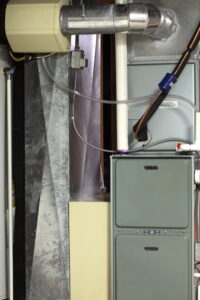 As we settle in for the winter holiday season, we'll also settle in with our home heating systems. This is a good time to talk about how to heat your home safely with a gas furnace. The modern gas furnace is constructed with many safety features and, for the most part, you won't have to worry that your gas furnace is inherently unsafe for your home. However, neglect of maintenance and failure to follow some basic safety precautions elevate the risk of operating a gas furnace. 
We want you and your family to enjoy a warm and safe winter this year, so we've listed several important tips to keep your gas furnace operating safely.
Schedule professional maintenance
This is the most important step for furnace safety, and it's arguably the most important heating service in Brockport, NY that we offer. Annual maintenance for a gas furnace gives professionals an opportunity to inspect the furnace to ensure that all its safety features are working properly and there aren't any troubles such as gas leaks or cracked heat exchangers that can lead to hazards. Regular tune-up steps also prevent the furnace from deteriorating early and becoming unsafe. If you haven't scheduled maintenance yet for your furnace, it's definitely not too late. Sign up for one of our maintenance plans today to get started.
Clear the area around the furnace
Most furnaces are located in areas of a house where people like to store items. Unfortunately, they often store them too close to the furnace, where they risk catching fire if a flame roll-out occurs or the furnace overheats. We recommend you keep three feet clear around the furnace. Exercise great caution when storing highly flammable objects, such as paint thinner or cans of fuel, anywhere close to the furnace. We also recommend vacuuming around the furnace to remove dust and lint that might also catch flame.
Test your carbon monoxide detectors
Carbon monoxide is called "the silent killer" because it's a colorless, odorless, tasteless, and highly toxic gas. CO leaks from a gas furnace are one of the major possible dangers, and CO detectors provide you with an early warning of a build-up of gas you couldn't otherwise detect until it begins to affect your health. Before you start using your gas furnace for the season, test all the CO detectors in your house to make sure they have power and are operating correctly. 
Establish rules
This is important if you have children in your household. During summer, children may play around the furnace area and not realize its potential danger. Make sure children know that the furnace can heat up and that they shouldn't play or leave their toys near it during the winter.
Call for repairs promptly
When your furnace starts to malfunction, even if the problem appears minor, do not delay calling our technicians to have it repaired. A faulty furnace has a much higher chance of creating hazards. The sooner problems are fixed, the safer your furnace will work.
Triple O Heating, Cooling, Electrical & Plumbing Is Your One-stop Shop for HVAC, Plumbing and Electrical. Call us for all your furnace needs.