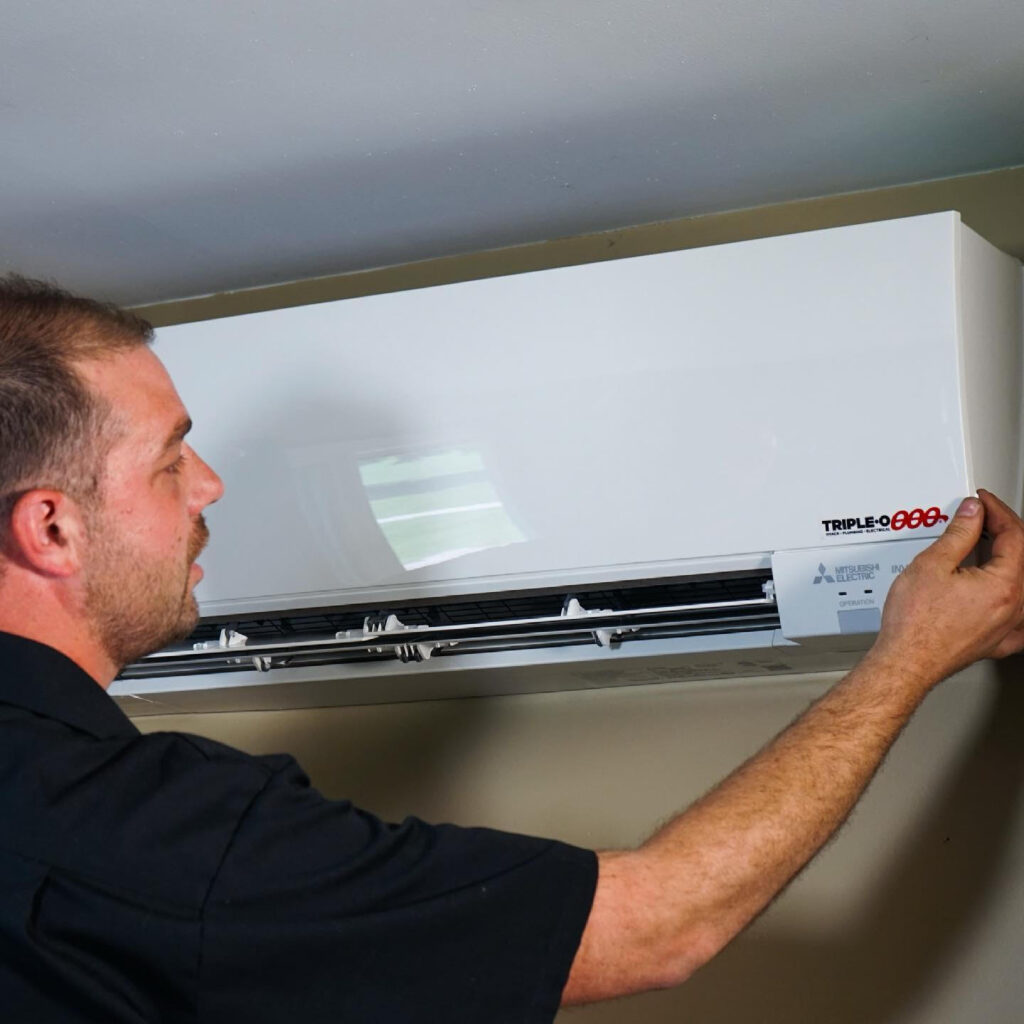 You may have heard talk about ductless mini splits as an option for comfort in a home. Since most people are used to central air and heating working through a network of ducts to adjust the temperature indoors, the idea of a system that works without ducts might seem odd. Yes, there are window ACs, but those are really only good for small apartments.
So what exactly is a ductless mini split, and is it something to consider for your house? We'll get into the details of these systems more below.
Ductless mini split vs. heat pump
The first piece of information to know about a ductless mini split is that it is a type of heat pump. It works on the same principle: an outdoor unit containing a compressor and exhaust fan causes refrigerant to circulate between the outdoor unit and indoor unit. Depending on the direction the heat pump moves the refrigerant, it either moves heat from the outside (cooling mode) or moves heat indoors (heating mode).
The difference between a standard heat pump and ductless mini split heat pump is the indoor unit. Or units, as the case is with a ductless system. Where a heat pump has a single indoor unit with an air handler and refrigerant coil and blows air into the ductwork, a ductless mini split has multiple small indoor air handlers with refrigerant coils. They're attached high on the exterior walls of rooms and connect through the back of the wall to the outdoor units. Each air handler blows conditioned air directly into the living spaces. It's like having window ACs but without blocking windows and having them all hooked together.
Benefits of a ductless mini split
Using ductless mini split systems offer numerous benefits, although not all homes will receive the same ones:
They allow older homes without space for ducts to easily enjoy central cooling and heating.
With new homes, a ductless system allows construction without space-consuming ducts.
They can target hard-to-heat-and-cool spots that the central HVAC can't reach.
They have high energy efficiency because they don't lose or gain heat through ducts.
They can improve indoor air quality.
They offer zone control heating and cooling.
They work well for room conversions and add-on rooms.
How long do ductless mini splits last?
You can expect a professionally installed ductless mini split system to last for around 20 years. That's 5 years longer on average than standard heat pumps and air conditioners. If one of the indoor wall units breaks, you can have it replaced without having to replace other parts of the HVAC system.
Call us to find out more about ductless mini splits
When it comes to ductless mini split service in Pittsford, NY, Triple O is the right team to call. We'll help you decide if going ductless is a good option for your home and find other ways to put a ductless system to work for you. We offer service so good, you'll find a reason to call us!
Triple O Heating, Cooling, Electrical & Plumbing Is Your One-stop Shop for HVAC, Plumbing and Electrical. Find out more information about ductless mini split systems today.