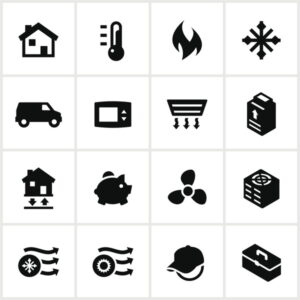 With winter closing in, you may find yourself in a situation where you have to replace your old central heater. That's a big job, although when you work with our skilled technicians for a heating installation in Rochester, NY, it will go smoothly.
Part of what makes getting a new heating system complicated is what type of heater to get. There are multiple central heater options, as well as choices for efficiency and system size. We're going to look into the best way to find the right heating system for you.
Understanding Your Heating Needs
When approaching the question of what type of heater will work best for your home, there are several things to consider:
The amount of heating necessary to maintain comfort, i.e. heating capacity.
The local winter climate.
The size of your house and other factors that affect how to heat it, such as insulation and the number of heat-generating appliances.
Already existing HVAC structures, such as ductwork or boiler piping.
How important energy efficiency and energy cost is to you.
Don't worry if you don't know all these data points yet—your HVAC installers will help you out with the more technical ones.
Furnaces
The most common type of heating system found in homes, furnaces are dependable and powerful. If you currently have a furnace, then it's easy to switch to a new one—and you'll have the opportunity to change to a more energy efficient unit. Furnaces are flexible, coming in electric and natural gas units, and are easy for professionals to accurately size to keep a house evenly warm.
Heat Pumps
These units are rising in popularity because of their energy-saving abilities and because they operate as both heating and cooling systems. They're terrific options for all-electric homes. However, for a heat pump to be worth its cost, it must replace both the current heater and air conditioner. Heat pumps may also struggle with efficiently heating older homes that have poor insulation.
Ductless Mini Splits
This is a type of heat pump system that doesn't use ductwork, instead working through a series of wall-mounted blower units placed throughout the house. This is a fantastic choice for vintage homes that don't have space for ductwork or for homes with spots that are difficult to heat or cool with standard central HVAC systems. For homes with extensive ducts, a complete ductless system is a bit redundant, although it can still be useful for add-on rooms and room conversions.
Boilers
Boilers, like furnaces, can run from either natural gas or electricity. They have several great advantages such as longer service lives, fewer repair needs, lower energy consumption, and an even spread of heat. However, boilers need pipes and terminal points installed, so they aren't practical for homes that already have ductwork for a forced-air heater like a furnace or heat pump.
Work With the Pros
We hope we've given you enough basic information to start thinking about what heating system to have installed. The next step is to contact us to arrange for installation. We'll do a heat load calculation for your house so we know what size heater you need, and then we'll work with you to discuss factors like cost, efficiency, and type. With our help, you'll end up with the right heating system.
Call Triple-O Mechanical: Your One-stop Shop for HVAC, Plumbing and Electrical.